Complete Story

08/22/2023
News Out of DBX
Requarth Lumber: A Testament to Timeless Success and Community Support
August 22, 2023
In the recent August 21st issue of the Dayton Daily News (DDN), an article spotlighted Builders Exchange Dayton (DBX) member, Alan Pippenger, who serves as the President of Requarth Lumber. The article celebrated Requarth Lumber's remarkable legacy as one of the oldest companies in Dayton.
Established in 1860 by Alan's great-great-grandfather, Frederick August Requarth, Requarth Lumber has stood the test of time, weathering countless economic and social changes over its more than 160-year history.
Requarth Lumber's presence in the Dayton community has been more than just a business venture; it has been a cornerstone of support for generations. Over the years, Requarth Lumber has developed a reputation for reliability, trustworthiness, and a deep understanding of its customers' needs.
The DDN article offered a glimpse into Alan Pippenger's insights on running a business that has surpassed the century mark. Pippenger's perspective sheds light on the essential values that have propelled Requarth Lumber forward through the decades. He emphasized the importance of adaptability, innovation, and a commitment to maintaining the core principles that have guided the company from its inception. According to Pippenger, embracing change while staying true to the company's heritage has been key to Requarth Lumber's enduring relevance.
In recognition of Requarth Lumber's remarkable journey, DBX would like to extend our heartfelt congratulations to the company on its enduring legacy and the invaluable support it has provided to the Dayton community throughout the years.
KRISHER RAISES AWARENESS FOR 988 SUICIDE CRISIS PREVENTION LINE
During Team Building Night
All of those attending the DBX Team Building Night are holding up their poker chips that promote the 988 Suicide Prevention Lifeline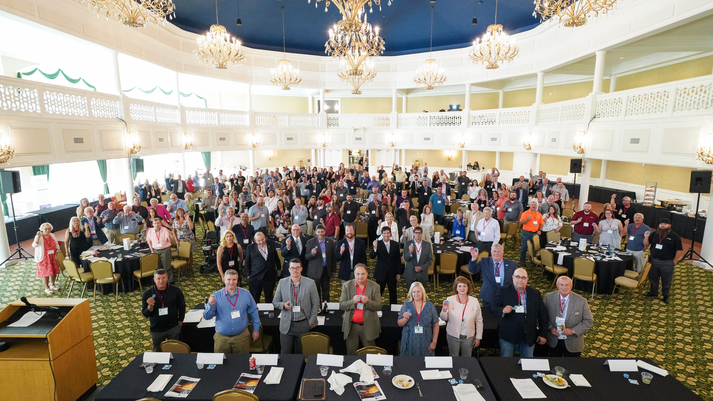 Howard Krisher, the President of Starco, Inc. and Chairman of the Mechanical Contractors Association of Greater Dayton, passionately discussed the significance of the 988 Suicide & Crisis Lifeline during the recent DBX Team Building Night on August 10th.
Highlighting a concerning fact, Howard pointed out that within the United States, the construction industry ranks second highest in terms of suicides. He emphasized the collective responsibility we all share to contribute towards reducing this alarming statistic.
Taking a proactive stance, several prominent organizations including the Mechanical Contractors Association of America, the National Electrical Contractors Association, and The Sheet Metal and Air Conditioning National Association, have chosen to endorse the 988 Lifeline number. They are achieving this by distributing poker chips featuring the 988 Lifeline Number, effectively spreading awareness.
Whenever an individual reaches out by calling, texting, or engaging in a chat via the 988 Lifeline, they are connected with skilled counselors who are an integral part of the expansive 988 Lifeline network, encompassing over 200 local crisis centers. These adept counselors are equipped to deliver confidential and complimentary emotional support and crisis counseling to those facing suicidal thoughts or emotional distress. Their objective is also to facilitate connections with appropriate resources. Importantly, these essential services are accessible 24/7 throughout the entirety of the United States.
THANK YOU TO TEAM BUILDING NIGHT SPONSOR PHILLIPS COMPANIES

---